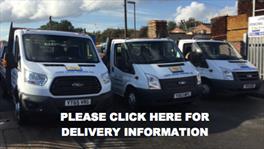 Please find enclosed payment for fencing. With thanks, the fence looks great! Sian Hampton. Beeston
Sian Hampton (10th January 2017)
Concrete Slotted Posts 5" x 4"
Concrete Slotted Posts
5" x 4"
Manufactured by ourselves to guarantee top quality
Lovely smooth face finish
Steel reinforced
Buff Concrete Slotted Posts also available, as seen in the alternative picture.
In Stock.
Prices subject to VAT. Post offer prices are when puchasing with fence panels and gravel boards.
| Size | Price |
| --- | --- |
| 5ft (4'9") | £9.95 |
| 6ft (5'9") | £10.45 |
| 7ft (6'9") | £10.95 |
| 8ft (7'9") | £11.95 |
| 9ft (8'9") | £13.95 |
| 10ft | £32.95 |
| 11ft | £34.95 |
| Buff Slotted Posts | £P.O.A |
Enquire
Products Related to Slotted Post