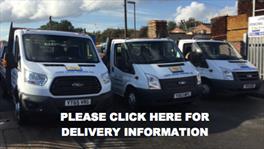 Thanks for all your hard work, fence looks amazing. Liz D. Littleover.
Liz Duddy (15th July 2013)
Long Eaton Fencing Supplies Limited have provided a fast and reliable service to Nottingham for the past 19 years whether it be for a supply only service or a complete installation. With our own quality control policy's in place during both the manufacturing and fitting processes, we believe we provide the best quality products within Nottingham and this has helped us to build up a large customer base within Nottinghamshire. We can provide fast and easy quotations for both supply only and installation free of charge.
Contact us on 0115 9460604.
I would like to say that we are very pleased with the end result and thank you for your speedy reponse to our order. We will have no hesistation in recommending your company to friends and associates.
Mr Moody (2nd April 2010) Nottingham
A wide range of products are available throughout Nottingham;